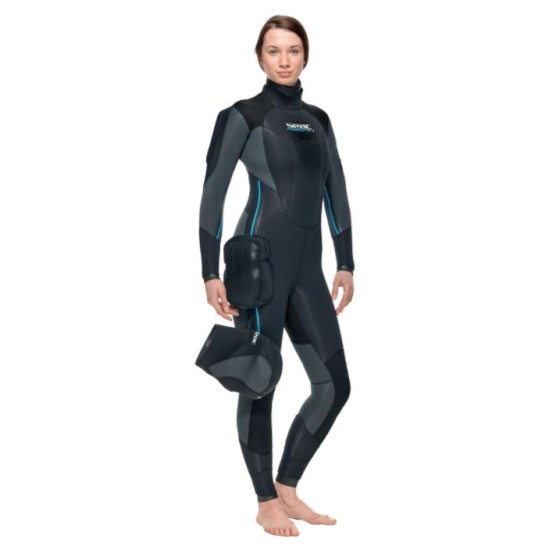 On Request




SEAC MASTERDRY Semi-Dry Suit
SEAC's MASTERDRY is a semi-dry suit with rear zipper constructed of super-elastic neoprene. It is the closest you can come to a full dry-suit without the added valves and bulk.
The seals around the neck, arms and legs are all roll-back Smooth Skin ultra-elastic nylon that creates a fantastic seal which can then be doubled up by inserting the hood, gloves, or boots into the underside of the outer nylon layer.
Once a small amount of water does enter the suit, it is held in place by SEACs thermal fiber plush material and kept warm by body temperature so it is suitable for all seasons other than icy waters.
The knees, seat, and shoulders are all reinforced to handle abrasions from diving as well as wear and tear of the BCD.
The front of the suit is free from any seams which allows the 300% Extraflex superelastic nylon to expand over 3x that of similar suits.
The rear of the suit has a TiZip which is a flexible and watertight zipper that is extremely easy to glide open and close.
On the right hip you will find a sizeable 3D zipper pocket suitable for any tools, masks, etc. you may need on your dive.
This suit is going to give you the most bang for your buck in terms of seasons available for use and overall comfort.
You will be amazed at the comfort and quality of this suit.
Stock:

On Request

Brand: SEACSUB SPA
Model:

KOMODA Semi-Dry

Dimensions:

60.00cm x 40.00cm x 15.00cm
Reset options